GOLearn
High Quality Professional Learning offered through various learning designs results in educator and student success.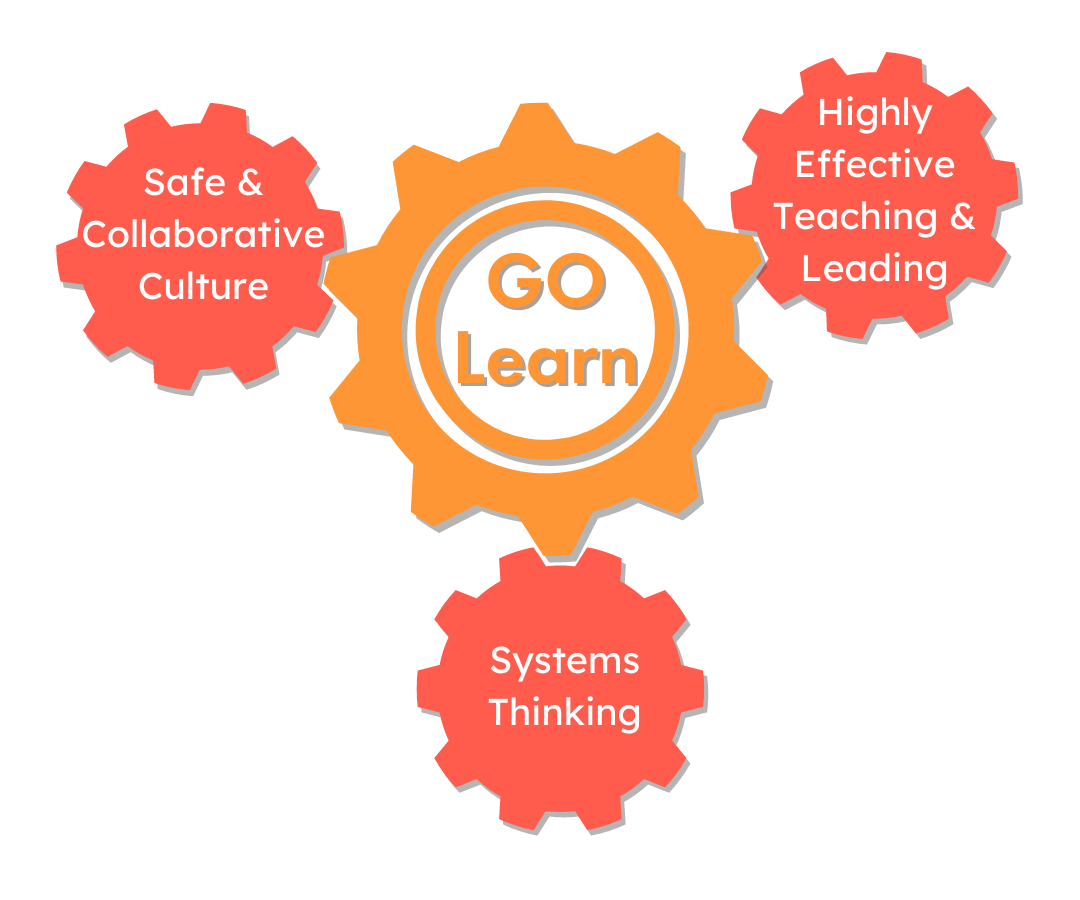 As the GOCSD PL Advisory team reviewed the results of the needs survey, we took a systematic approach to show how all the offerings fit together while allowing individuals and districts the opportunity to personalize the work and learning to their needs.
What offerings might align to your CSIP Plan?

What offerings might meet the needs of the varied experience of your teachers?

How can PL be viewed as on-going and living vs a one-shot experience?
We considered other systems you might be working to align with, such as the MSIP 6 indicators. You might be exploring the HRS framework and involved in the SRSN, or might be launching or revisiting the foundations of PLC.
From all the varied responses we received, the topics fell within one of three strands:
Systems Thinking

Safe & Collaborative Culture

Highly Effective Teaching & Leading
These strands are all interconnected and support each other in creating what works best in our schools. But we also know that depending on where your district is at any one time, on-going learning within all three areas is vital.
In the table below, specific topics are listed for each of the strands with corresponding GOCSD offerings.
Using this Framework to Personalize PL
District leaders should consider using this framework to identify the personalized learning needs for each of their educators. GOCSD's plan is to support continuous improvement with this systems approach.
This framework should be a resource to consider as districts analyze current CSIP goals, professional learning needs assessment data, classroom observation data and student learning evidence. A synthesis of this information should help district leaders identify the learning opportunities needed by their educators.
This framework clarifies all of the various learning experiences to be offered so that leaders and teachers can easily select the opportunities that fit their personalized needs.
Be sure principals and teachers are aware of and understand this framework and continuous improvement process. Be reminded to utilize our PL Events web page to register for events as they become available.
This framework will be updated as new events are planned. When registration opens for an event, it will be listed on the PL Events web page, app, highlighted in GONews, and shared on social media. We use the Learning Forward Standards for Professional Learning when designing our experiences to ensure that we provide professional learning that leads to high-quality leading, teaching, and learning for students and educators.
⚙️ Systems Thinking

Topic

Offerings

Continuous Improvement

Sept 14: GO Time

Sept 25-26: High Reliability Schools

Sept 27: Membership Meeting

Oct 2-4: Kettle Moraine Field Trip

Nov 15: Membership Meeting

Jan 17: School Finance

Jan 24: GOKey Communicators Onboarding

Feb 28: Membership Meeting

Apr 24: Membership Meeting

On-Demand: School Safety

On-Demand: Understanding & Talking About Your APR

On-Demand: Teacher Proud Tuesday Toolkit

On-Demand: Public School Proud Bulletin Toolkit

On-Demand: GO Time

On-Demand: MO School Finance Update

On-Demand: Educational Advocacy

On-Demand: Title IX Guidance

On-Demand: Secret to Successfully Building a New School

On-Demand: Get the Lead Out

High Reliability Schools

Navigating Change

Professional Learning Communities

July 11-12: High Levels of Learning for All

Networks

Sept 21: Superintendents GOHuddle Network

Apr 27: Principals GOHuddle Network

Nov 17: GOTech Network
⚙️ Safe & Collaborative Culture

Topic

Offerings

Behavior Interventions

Sept-Feb 2024: Framework for Effective Teaching Series

Summer 2024: Follow up of CHAMPS for Tier 2 Interventions

On-Demand: Be Well Experience

Building Relationships

Sept-Feb 2024: Framework for Effective Teaching Series

Classroom Management

Collective Efficacy

July 2022: Dr. Jenni Donohoo

Apr 2023: Efficacious Educators
⚙️ Highly Effective Teaching & Leading

Topic

Offerings

Competency Based Learning (CBL)

Real World Learning (RWL)

Project Based Learning (PBL)

Oct 2023: Kettle Moraine Field Trip

On-Demand: Getting Ready to GO-CBL 101

Collaboration with Success Ready Student Network (SRSN)

Curriculum Development

Understanding by Design (UbD) - Backwards Design

Learning Targets & Evidence of Success

Proficiency Scales

Assessment/Data Driven Decision Making

Oct 2023:

GVC Guidance

Dec 12:

Designing for Learning

Feb 20:

All About Assessment

Apr 16:

Data Driven Decision-making

On-Demand: Curriculum Deep Dive Series

Data Analysis and Decision Making

Student Goal Setting

Classroom PDSA

Apr 16:

Data Driven Decision-making

May 2023: State-Approved K-3 Reading Assessment Vendor Showcase

Student Goal Setting: facilitated by Instructional Coaches

On-Demand: State Approved K-3 Reading Assessment Follow-up

Effective Tier 1 Instruction

Communicating High Expectations

Content Specific Strategies

Student Engagement

Differentiating Instruction

July 2023: Cooperative Learning

July 2023+: Cognitive Coaching Foundation Seminar

Sept-Feb 2024: Framework for Effective Teaching Series

On-Demand: GOSUB

On-Demand: Blended Learning Series

On-Demand: Canvas Academy

On-Demand: Equitable & Inclusive Teaching Practices in Virtual Environments

On-Demand: Feedback, Communication, Relationships: Oh My!

On-Demand: Setting up a Mathematical Community

Response to Intervention (RtI)

July 2023: High Levels of Learning for All

Supporting New Teachers

Ongoing: Beginning Teachers Community

Aug - Apr 2024: Supporting Beginning Teachers Community

On-Demand: Why Everyone's Jealous of our Retirement System

Networks

Aug 2023: GOPLTW Network at Innovation Summit

Sept 2023: GOSPED Network

Dec 14: GOData Network

Jan 10: GOEdTech Network

Jan 23: GOSupport Network

Jan 25: GOCoach Network
We offer Professional Learning in various formats. To overcome barriers of time and space we offer sessions in a variety of modalities including: seated, virtual, and on-demand.
| Format | Description |
| --- | --- |
| Community | A series of sessions to provide follow-up conversations to guest expert programs, providing ongoing support and collaboration |
| Conference | Large seated event with keynotes and breakout sessions |
| Field Trip | Travel to a site for learning, experiences, collaboration, and observation |
| Leadership Meeting | Meeting format with professional learning |
| Guest Expert Session | A guest expert facilitates a single session |
| Guest Expert Program | Guest experts facilitate multiple sessions or days |
| Member or Vendor Showcase | A member hosts a session to share a successful program or strategy that they are using and how others might choose to replicate it |
| Member Hosted Event | A member is hosting a PL event for their organization and opens up registration to GOCSD members |
| Networks | Regularly scheduled sessions for people with similar job responsibilities or endeavors |
| Virtual Fair | A schedule of breakout sessions held virtually |
See our events webpage for a complete listing of all our meetings, events open for registration, and scheduled events that will opening for registration in the near future.