For March's Teacher Proud Tuesday we are spotlighting the Cassville, Fair Grove and Logan-Rogersville School Districts.
Cassville R-IV
Cassville R-IV is proud to recognize Mrs. Jen Willis, Ms. Jewel Farwell, Mrs. Tara Hutchens and Mr. Jordan Ellis as our March Teacher Proud Tuesday educators. All four nominees are committed to student learning and provide a positive and supportive classroom environment for their students. We are proud they are part of the Wildcat Family!
Fair Grove
Teacher: Jalen Supancic, Business Education
Years in Education: 3
What we love about Mr. Supancic: Mr. Supancic is a bright spot for our school. In his third year of teaching, he is a natural fit for this profession. He is one of those unique teachers who is great at content and relationships. He is a real kid magnet who displays a tremendous work ethic. He is a young teacher that has wholly engrossed himself in the school and community. Jalen never misses an opportunity to serve his students or community members. We appreciate his dedication to his middle school and high school classes, role as FBLA advisor, and commitment as a cross country and basketball coach.
Why Mr. Supancic chose to be a teacher: I choose to teach because of the impact that my teachers had on my life. I want to make a difference however I can and sometimes it is as simple as caring about what's going on in someone's life. I teach because I know that I can make a difference in the lives of my students by simply choosing to care and invest in their lives.
What Mr. Supancic enjoys about teaching in Fair Grove: Fair Grove is such an awesome place because of how caring and supporting the community is. I am also a person who is big on building relationships and this is a great place to do it. Everyone is passionate about what they do and makes it their top priority to lead our students towards success. It's just an all-around fun place to be!
Logan-Rogersville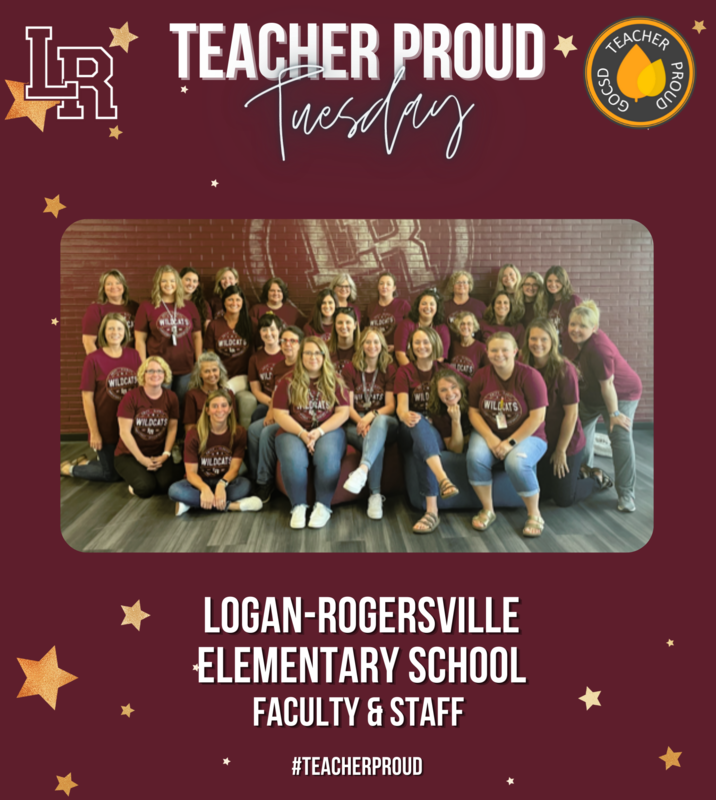 It's time for another Teacher Proud Tuesday! LR is excited to join Greater Ozarks Cooperating School Districts in celebrating teachers on the second Tuesday of each month! This month, LR would like to recognize ALL the awesome faculty and staff at LR Elementary! They are amazing and we are proud of them all and they work they do! #TeacherProud #WeAreLR
---
GOCSD encourages all educators to collectively "lift-up" and celebrate our profession! The hope is that we all proclaim that every second Tuesday is Teacher Proud Tuesday. Check out the Teacher Proud Toolkit & Tutorial to learn more.