For April's Teacher Proud Tuesday we are spotlighting the Ash Grove, Clinton and Willard School Districts.
---
Ash Grove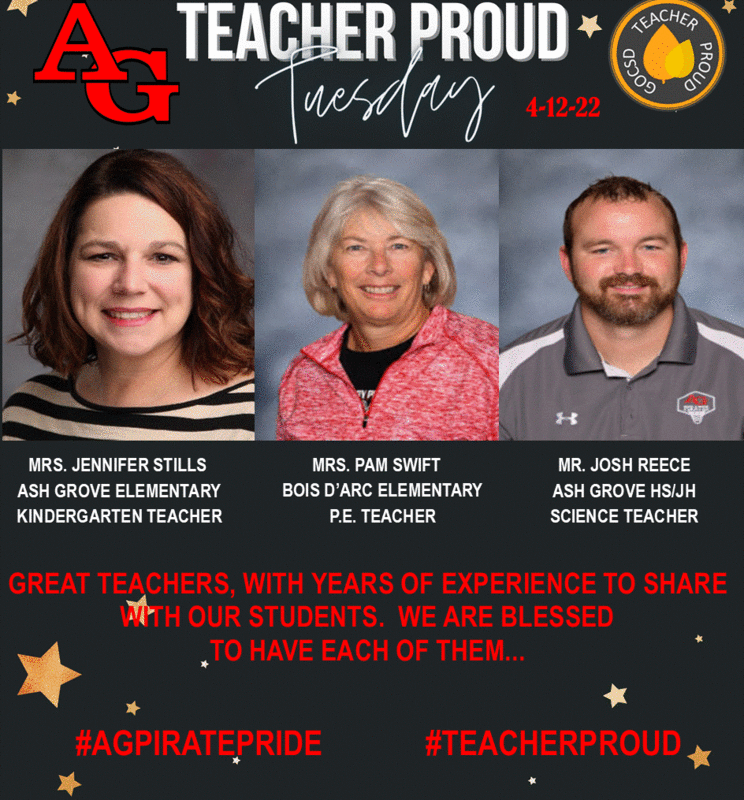 Great teachers, with years of experience to share with our students. We are bled to have each of them.
Mrs. Jennifer Stills, Kindergarten Teacher at Ash Grove Elementary
Mrs. Pam Swift, PE Teacher at Bois D'Arc Elementary
Mr. Josh Reece, Ash Grove Science Teacher at HS/JH
---
Clinton School District
IT'S TEACHER PROUD TUESDAY! The Clinton School District is excited to join other school districts across the region in celebrating teachers on the 2nd Tuesday of each month. This month, we celebrate and recognize the outstanding work of Clinton Technical School Automotive Technology teacher, Brad Stone. Mr. Stone has been an educator for the past 7 years and continually lives out the values of the Clinton School District. Brad is known for his ability to develop strong relationships with his students, colleagues, and the community. He communicates effectively with students, staff, parents, and stakeholders. Brad works hard to ensure his students leave his program with the skills they need to continue their education or enter into the automotive industry. His students regularly excel in SkillsUSA competitions at the district, state, and national level. Brad is constantly revamping his curriculum, staying abreast of the latest in technology, techniques, and innovations, and works hard to keep his instruction timely and relevant. Brad is a team player and is always quick to jump in and help a student or colleague. We are so glad to have Mr. Stone on our team and today on #TeacherProudTuesday, we celebrate him and the positive difference he is making in our district and in the lives of our Cardinals.
---
Willard Public Schools
Willard Schools, celebrated their Teacher of the Year finalists and awarded the District Teacher of the Year. Julie Kudrna, Horace Mann (our Teacher of the Year sponsor), has deliciously provided cookies for all staff at every building throughout the district. In addition each building Teacher of the Year finalist was be presented with an Amazon gift card and balloons. The District Teacher of the Year received a $500 grant for their classroom, compliments of Julie Kudrna of Horace Mann.
---
GOCSD encourages all educators to collectively "lift-up" and celebrate our profession! The hope is that we all proclaim that every second Tuesday is Teacher Proud Tuesday. Check out the Teacher Proud Toolkit & Tutorial to learn more.