For this month's #TeacherProud Tuesday we are spotlighting the Branson, Clinton and Hollister School Districts.
---
Branson Public Schools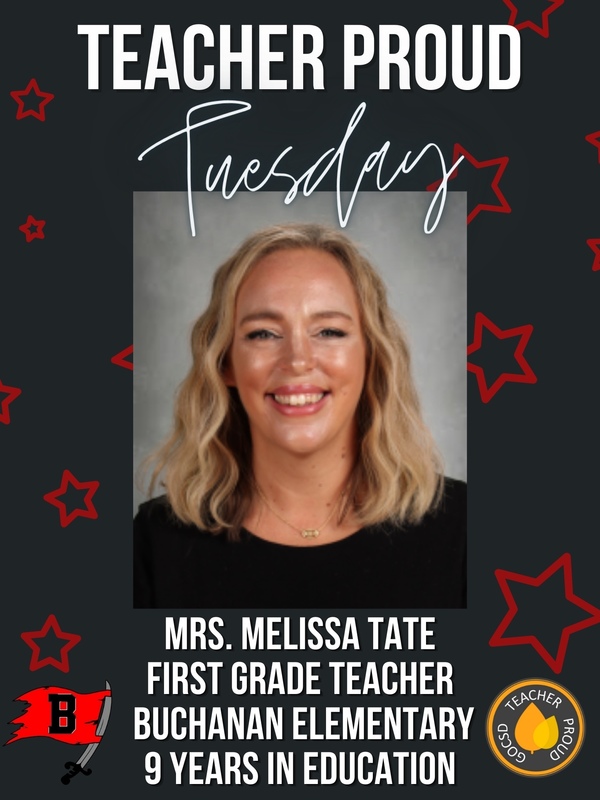 Branson Public Schools is excited to join districts across the region and the Greater Ozarks Cooperating School Districts (GOCSD) again for the 2022-23 school year through the Teacher Proud Tuesday campaign.
Branson Schools is proud to recognize Melissa Tate, first grade teacher at Buchanan Elementary, as October's Teacher Proud recipient. Mrs. Tate has been with the district for nine years. Mrs. Tate was nominated by both colleagues and community members.
When asked why she is deserving of this honor, Principal Dr. April Hawkins says, "Mrs. Tate exudes love and compassion for all the students and families she serves. She prioritizes building exceptional relationships with student, parents and colleagues alike. It is common to hear the words, "I love Mrs. Tate" from learners because she makes learning fun and meaningful. Mrs. Tate is masterful in meeting students where they are, recognizing the needs of the whole child - academically, socially and emotionally. Because of her true love for the profession and children, she routinely creates special moments of delight which lead to learning memories for children that will last a lifetime. She's a teacher who goes above and beyond, such as teaching summer school and tutoring after hours to make an even greater impact on student learning! Furthermore, among her colleagues, she is highly respected as a teacher leader. Her mentorship in growing new teachers in the profession is second to none. Mrs. Tate continues to be a shining star and a beacon of hope at Buchanan Elementary and we are honored to celebrate her for Teacher Proud Tuesday!"
Assistant Principal, Jared Howerton, says, "Mrs. Tate is one of a kind. The way she truly cares for her students and builds relationships is second to none. She is a GREAT communicator and team player. She always advocates for kids and keeps their best interest at the forefront of all decisions. We could not be happier that she is a part of the BE family!"
One of her nominators was a previous student teacher, who now works alongside Mrs. Tate at Buchanan Elementary. "Melissa was my Cooperating Teacher during my student teaching, as well as my current mentor teacher. She has taught me so much and continues to help me. I have seen her impact so many students!"
---
Clinton School District
IT'S TEACHER PROUD TUESDAY! The Clinton School District is excited to join other school districts across the region in celebrating teachers on the 2nd Tuesday of each month.
This month, we celebrate and recognize the outstanding work of Clinton High School Project Lead the Way teacher, Mrs. Melissa Peery. Melissa has been an educator for 28 years, 21 of those years here in the Clinton School District. During this time, she has impacted thousands of students.
Mrs. Peery builds strong positive relationships with her students, their families, her colleagues, and the Clinton community. Melissa has worked tirelessly to reorganize and clean the CHS shop to provide a safe learning area for students to be creative and learn important woodworking skills. Mrs. Peery serves as Student Council sponsor, which allows our student body to have a voice in decisions made at CHS. Mrs. Peery is an amazing teacher leader and a role model to others.
"I am proud to be a teacher because I get to work with students from all backgrounds and abilities, value who they are, inspire them to dream BIG and then watch them live out that dream. I am so honored when a student remembers me even though I am just a tiny part of their story. Success stories come in all shapes and sizes and I especially like the "underdog" or non-traditional successes!"
We are so glad to have Mrs. Peery on our team and today on #TeacherProud Tuesday, we celebrate her and the positive difference she is making in our Cardinals' lives.
---
Hollister R-V School District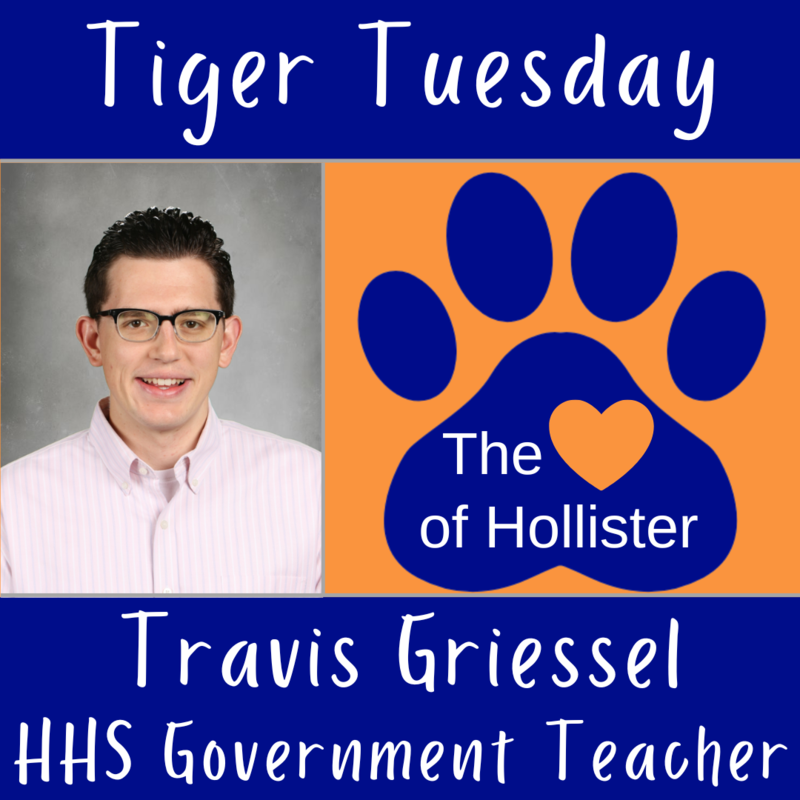 Mr. Griessel is the government teacher and STUCO cabinet advisor at Hollister High School. This is his first year being a Hollister Tiger. Upon graduating from Southwest Baptist University with his Bachelor's Degree in History and Political Science, Mr. Griessel began classes for his Master's in Education while working as a graduate assistant on the Residence Life staff.
Mr. Griessel loves being a smiling face and an encourager for students and loves teaching and sharing with students every day about government, a subject he's very passionate about. Mr. Griessel shares that he feels blessed to be in Hollister.
"I enjoy the small town and small school feel of Hollister and being able to know everyone while also being close to the amenities of larger towns," he says.
When not a work Mr. Griessel enjoys reading a good book, spending time with friends, and being involved in his church. He is also an avid KC Chiefs and KC Royals fan.
---
Join the Celebration
The purpose of the Teacher Proud Tuesday campaign is to lift up and celebrate the profession and those currently serving, to recruit and inspire candidates to consider teaching, and to inform communities, business leaders and policymakers on the importance of public education.
🌟 Check out the Teacher Proud Webpage and Toolkit to learn more.
🔦 If your District would like to be spotlighted by GOCSD please contact Janetta Garton.